Bankruptcy – Chapter 7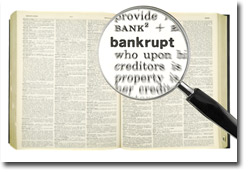 Are you losing sleep at night because you can't pay your bills? Are creditors calling night and day, harassing and humiliating you? Do you worry constantly about your current situation and your financial future? Is your health taking a turn for the worse from all the stress and strain?
Depending upon your circumstances and the goals you want to achieve, Chapter 7 Bankruptcy may be a viable option for you, with the opportunity to start again with a clean new slate.
A Chapter 7 can help you get out from under crushing debt, with a discharge of your medical bills, credit card debt, lawsuit judgments, payday loans, and even some or all of your older income tax obligations.
While there are specific debts that cannot be discharged in bankruptcy, such as those secured by property like your home and your car, some of those assets can be kept by continuing to make payments and filing a reaffirmation agreement with the court.
Once a Chapter 7 is filed, the bothersome phone calls, letters, and other bill collection methods must stop. Your former creditors will be prohibited from contacting you with regard to the collection of these soon-to-be discharged debts.
You can experience peace, calm and serenity sooner by filing a Chapter 7 bankruptcy today.
Bankruptcy Attorney Tim Goan will help determine if you qualify, or if the debt relief you seek can be obtained instead with a Chapter 13 bankruptcy.
Call today and schedule an appointment with Attorney Goan. He'll discuss with you your options, your rights, and give you the chance to take back control of your financial future.
With an office centrally located in Flagler County's Palm Coast, you're not that far away from getting the legal solutions you need to move forward with your life.
Call our office today, and put the Goan Advantage to work for you.
The consultation is FREE, and the liberation from debt is PRICELESS!
Call 386-445-9003
Email TimGoan@GoanLaw.com
Or use the fast & easy Contact Form