Family Law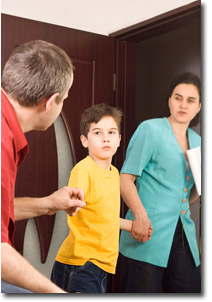 Family law matters can be very stressful and highly emotional. After all, we are talking about concerns that hit closest to home… and the heart.
Decisions about divorce, child custody, child support and alimony have a direct impact on your family's well-being and security, not to mention visitation, support payments, relocation and other issues that effect your family's future as well. It is important to have a family law attorney who is experienced and a strong advocate, but who is also compassionate and understanding of your needs.
Family Law Attorney Tim Goan is that compassionate advocate. He understands the urgency of divorce questions and child support issues, as well as other family law problems, and he strives to resolve these legal matters with the least amount of time and expense. For those situations where strong advocacy or even a trial is necessary, Attorney Goan has the capability and experience to effectively represent your interests and your rights under Florida law.
Choosing the right divorce lawyer or family law attorney can make a significant difference in the outcome of your divorce, child custody and child support decisions, visitation rights, and other legal matters affecting you and your loved ones. Your family's mental well-being and your financial interests are important considerations as you go through the life-changing dynamics that these challenging issues bring about.
Attorney Tim Goan understands what you're going through, and with his extensive legal experience, he will help you formulate realistic goals for yourself and your children, then assist you in achieving them within the power of the law.
As a Florida Family Law attorney for over twenty years, Attorney Goan has handled hundreds of divorces and other family law matters in Flagler County, Volusia County, Putnam County, St. Johns County, and beyond. He also has represented clients in child support and custody matters, grandparent and stepparent adoptions, and those very sensitive and emotional matters involving domestic violence allegations as well.
The best way to decide if Attorney Goan is the right lawyer to handle your case is to schedule time to discuss your concerns with him face-to-face. You can contact us by phone, email, or directly through this site, and we'll set up an appointment for a low cost initial consultation.
With an office centrally located in Flagler County's Palm Coast, you're not that far away from getting the legal solutions you need to move forward with your life.
Call our office today, and put the Goan Advantage to work for you.
Call 386-445-9003
Email TimGoan@GoanLaw.com
Or use the fast & easy Contact Form