Wills and Probate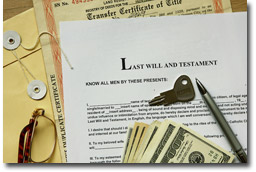 Wills and Estate Planning
Let's face it… you've worked long and hard for what you have, and the last thing you want is for the government, the courts, or someone you did not designate, to step in and take control of your assets when you are no longer able to make crucial decisions regarding your property and estate.
Protecting your assets for the benefit of your family and loved ones is not something to put off until some time in the future. There are just too many real-world examples where that kind of delay has proven to be tragic and a tremendous burden for those who are left behind.
Being able to make calm, reasoned, and informed decisions regarding your estate will give you a better outcome, and ensure that your wishes are met for passing along your assets to those people you want to have them.
The manner in which you do it, as well as the timing, may have implications as far as Federal and Florida estate taxes are concerned. That's why it's important to consult with an Estate Planning Attorney knowledgeable and experienced in wills, trusts, and estate matters, who can help you set up the legal framework for keeping control of your assets as well as control of the costs.
Attorney Timothy Goan has that knowledge, as he's prepared wills and trusts for over twenty years, and has extensive experience in handling these legal matters in Flagler County, Volusia County, Putnam County, St. Johns County, and beyond.
He welcomes the opportunity to meet with you and assist you in deciding whether a trust would be your best option, or if there are other alternatives that would more appropriately suit you and your estate. He can help you better understand durable powers of attorney and living wills in order to determine if they will be necessary for your estate planning.
The estate plan set up for you should address your objectives, your desires, your fears and concerns, and be as individual as you and your family are. Attorney Goan will see that your unique estate planning and asset protection needs are dealt with efficiently and effectively. He'll also discuss with you available options in the event a divorce or other life-changing event should occur in the future.
Attorney Goan and his staff prepare documents promptly and can complete the process of your estate plan in short order, usually no more than a few days from beginning to end. It really can be that simple, fast, and pain-free, and it will allow you to put your mind at ease when it comes to protecting the future of your family and loved ones after you're gone.
Probate
There are times when a probate is necessary after one of your loved ones passes away, in order to transfer assets to their beneficiaries. Probate Attorney Goan will be able to handle this legal matter for you expeditiously and professionally from beginning to end. The probate process usually is not that time consuming or complex, and if handled properly, it will be relatively smooth and uneventful, unlike the difficult ordeal that is commonly portrayed.
With an office centrally located in Flagler County's Palm Coast, you're not that far away from getting the legal solutions you need to rest assured your wishes and those of your loved ones will be met.
Contact our office today by telephone, email or directly through this site, and put the Goan Advantage to work for you with our probate and estate planning legal services.
Call 386-445-9003
Email TimGoan@GoanLaw.com
Or use the fast & easy Contact Form